Why do I use Cernit polymer clay?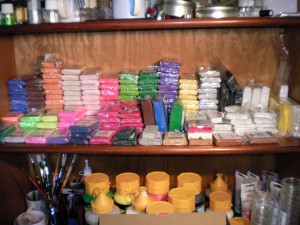 Well, the first reason is that there are two kinds of clay that dominate the Swedish market, Cernit and Fimo Soft. So Cernit is a lot easier to get a hold of than say Premo or Kato.
Second, I like the softness and pliabilty of Cernit. I tried regular Fimo once, and my hands couldn't handle the conditioning. Or maybe it's just my impatience liking the shorter time it takes to condition Cernit clay…
Third. My employer has a considerable discount on Cernit clay specifically. We have a deal, I make animal mugs for the children and in return I can make an order of clay on their tab. What you see to the right is how much clay fits into one of those orders. And only about 30 packets are needed for the mugs, so the rest is all mine, for free! Well, aside from the time I spend on making some 30-ish mugs each year…
There's no way I could afford that much clay if I paid it myself, and my employer pays about a sixth of what I have to pay, so the mug trade is a win-win for both of us.
So yeah, I'll stick to Cernit for now and it's great for my animal mugs. But yes, I've noticed it's a little… unpredictable when making canes, which I have now started experimenting with. If I put my impatience aside and let the canes cool between assembling and reducing and slicing the results are a little better.
But, if my sales take off this year, I may be able to buy another kind of clay to experiment with. I've seen both regular Fimo and Pardo clay available online at least…
Now what I would really like to try is transparent liquid clay, but so far I haven't found a single Swedish store, online or otherwise, who carries it.
Oh! And there's a fourth reason I use Cernit! It is extremely flexible! Which is good when making jewelry for children, or one-size-fits-all bracelets. I'll put up another post in the future showing just how flexible the clay really is. I just have to make pictures of that first.